Conversational & Collaboration Platform for financial institutions
Founded in 2008, Unblu is a privately held Swiss company that provides financial institutions with the best technology to enrich the digital experience of their clients by extending their customers' touchpoints and collaboration capabilities.
The Unblu Conversational Platform enables financial advisors and clients to engage, converse, browse & collaborate. Unblu customers can leverage their existing investments in the digital channels, increase the number of client interactions and boost transactions.
Unblu Conversational Platform
Presents bank and insurance companies with a unique opportunity to drive customer digital channel adoption, significantly increase customer satisfaction, and lower overall customer support costs.
Provide a WhatsApp experience while remaining compliant. Designed specifically for the financial industry, Unblu's Live Chat and Secure Messenger solutions allow your advisor to better serve your clients when buying complex products or needing support. Your advisors will be able to provide the same kind of real-time engagement as a phone call, but with a new level of fluidity as to when the exchange takes place, allowing it to naturally fit into a customer's schedule.
Unblu enables advisors to engage proactively and consistently with their clients. Unlike some of their competitors, Unblu Video and Voice solutions can also be embedded into your existing digital channels, which facilitates more secure conversations while extending your technology investment.
Co-browsing software lets you collaborate in real-time with your clients. Your advisors can work with clients to discuss opportunities, fill out forms, collaborate on documents, or purchase products online.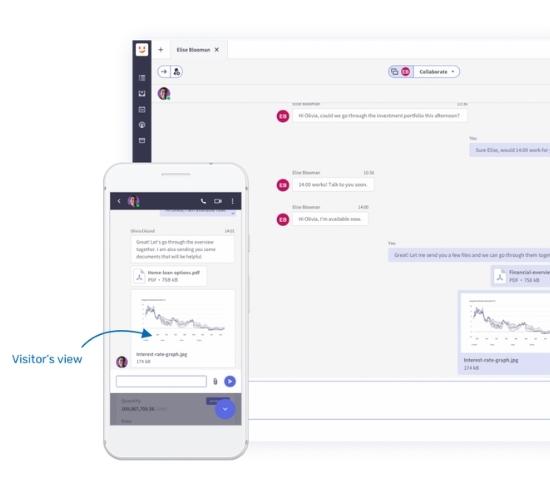 Create and maintain positive client relationships remotely by connecting securely in a personal and intuitive way through a natural and ongoing conversation.
Provide clients with a seamless experience throughout their online journey, capturing the best of one-to-one interactions to build relationships and trust.
Turn self-service browsing into a collaborative experience. During a conversation, advisors can use existing websites and documents together with their clients.
Onboarding experience that is efficient and convenient, yet personal, bringing value to both the company and the client.
Boost satisfaction & sales
Use a range of digital tools to meet clients on their terms, providing help at just the right moment in the advisory process, proving your value, building relationships, and supporting investments efficiently.