See What Others Don't
OWL ESG is a technology Data as-a-Service (DaaS) provider that helps clients see data and analytics others don't show you and can't show you.  Leveraging human expertise, technology and AI, and big science, we have built a diverse suite of ES data and analytics solutions. From small- and mid-sized funds to some of the biggest firms in the world, our clients rely on OWL ESG to build solutions that bring order to chaos.  OWL ESG serves: Asset Managers, Fintech Platforms, Asset Owners, Investment Product Issuers, Wealth/Investment Advisors and Corporations globally.
OWL ESG data solutions achieve investors' sustainability goals 
Our sustainable investing solutions consist of combining Environmental, Social and Governance expertise, data science, and cutting-edge technology to provide the data and analytics investors and corporate issuers need to achieve sustainability goals and ESG mandates. We deliver actionable insights that help investors to make choices that support the earth and the people who live here. That, in turn, helps businesses to thrive, because long-term profitability depends on long-term sustainability.
What sets OWL ESG apart?
A DIVERSE & FLEXIBLE PRODUCT SUITE CONSISTING OF DIFFERENT ESG SOLUTIONS: The sustainable investing landscape is expanding and changing. Our array of solutions offers choices that can grow as our clients' needs evolve.
EXPERTISE, TECHNOLOGY & BIG DATA: Identifying and measuring ESG risks and opportunities is complicated. We combine human knowledge, AI and big data to meet the challenge.
QUALITY THAT PROVIDES CONFIDENCE: ESG metrics and the decisions they drive are only as good as the quality of the inputs behind them. Our hybrid approach combines human analysis with AI and big data to create the breadth, depth and quality of inputs this issue demands.
NO "ONE-SIZE-FITS-ALL" MENTALITY: Our core ESG offerings cover ratings, principles-based screening, fund-level analyses, raw data sets, and more. We customize solutions based on your needs.  That is why fintech platforms partner with us to deliver ESG data and tools to their clients.
OWL – One Stop ESG Data Solution
See data a new way.
The sustainable investing landscape is expanding and changing. OWL's diverse and flexible product suite offers choices that can grow as our clients' needs evolve.
OWL's Detailed ESG Data service provides clients with data and peer analytics on hundreds of ESG issues such as emissions, waste, diversity, and many more. Gain deep insights into the sustainability characteristics of the companies and securities you are researching or holding as investments.
Leveraging artificial intelligence technology, OWL ESG's Principles-based Screening tool determines when a company's actions materially conflict with investors' ethical priorities. OWL's data-driven Principles-based Screening identifies companies that are meaningfully involved in the products/activities an investor wants to avoid.
OWL ESG's Data and Analytics service compliments our suite of turnkey solutions by allowing you to leverage our comprehensive ESG data to meet your unique needs and define your own proprietary analyses. You choose the inputs, weightings, methodology, peer groups and output; we build maintain and deliver on your schedule.
Fund managers and corporations must now disclose ESG metrics that conform to various reporting requirements and definitions, and entities that are not yet required to report this information want to know how they would measure up. OWL ESG has the high-quality data and analyses firms need to address all types of ESG reporting standards including SFDR, TCFD and CSRD.
Employs a "Wisdom of the Crowd" methodology by providing a holistic view of the market not just one firm's subjective position/methodology on a matter.  OWL's big data analytics addresses subjectivity directly by integrating and optimizing the largest ESG dataset in the industry of over 500+ sources combining data from a wide range of inputs including some of the most prominent ESG Ratings Vendors globally to create the most objectively sourced ESG ratings available.  OWL's ESG Consensus Scores offer the industry's freshest data that is updated monthly (not annually) delivering the most robust coverage via OWL's industry best universe of over +30,000 public companies worldwide.
To be truly useful, fintech providers must integrate ESG data into their clients' workflow in a way that provides portfolio-level insights that reflect the end clients' ESG preferences. OWL ESG allows platforms to provide ESG analyses offering a universe coverage of over 60k mutual funds & ETF's to meet the demand to incorporate sustainability into investment decisions.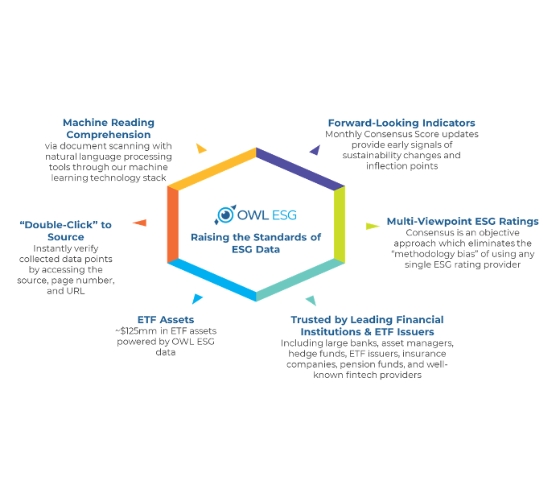 Explore hundreds of raw data points and analytics that cover specific E, S, and G issues to develop strategies, investigate investment theses, evaluate portfolios, and more.
Analytics & Ratings for Transparency
Build customized analytics, including ratings, that reflect unique sustainability views, in the process building ESG credibility providing the transparency investors require.
Analyze specific ESG issues in-depth – for example, not just carbon emissions, but emissions as a whole including ozone depletion substances and toxic & hazardous waste.
Better ESG Risk Management
Easily obtain data to meet regulatory reporting requirements and create custom reports for stakeholders or for due diligence – based on the EU Taxonomy, SFDRs, U.N. SDGs, etc.