The product distribution experts
Investment Suitability is at the center of attention of the current regulatory waves. Full compliance without blind spots across product shelves and behavioral conduct is going to be the new normal driven by regulatory pressure, a new competitive environment with robo-advisors and a new generation of investors.
We enhance the investment & advisory value chain from research to distribution with suitability assessments; solving the cross-border distribution, product and tax suitability issues of financial service providers. The entanglement of client context, rules and data leads to our automated unambiguous suitability answer – even down to the specific instrument level.
Investment Navigator offers financial institutions around the world modular technology-driven solutions as well as holistic consultancy services to add value to advisory and distribution processes.
The Product Navigator is modular built to provide financial institutions a maximum of flexibility to make it their true one-stop shop for fund information. We are specialized in
accompanying financial institutions on their way to introduce more automatization and digitalization into the fund sales process.
The Service Navigator provides suitability and compliance information for the complete range of banking services and products. The content of regulatory manuals (behaviour, cross-border, products, tax) is digitized, holistically and accurately combined with the client context, leading to unambiguous service suitability feedbacks.
The Shelf Navigator provides fund research departments the opportunity to deliver suitable investment fund recommendations to client facing staff through the automation of selecting suitable share classes per market (geographical and/or per client segment). It's a power-user environment tailored to the needs of fund analysts.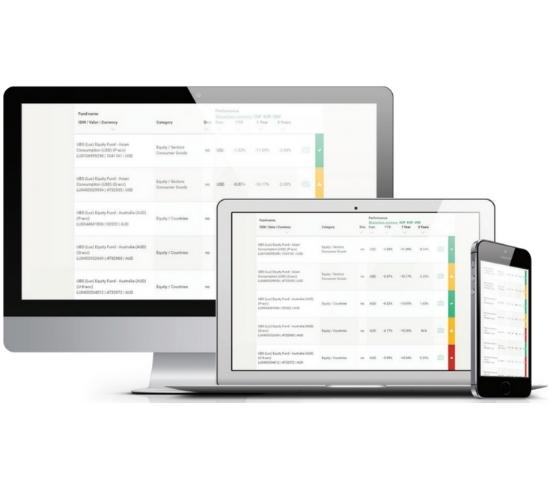 Avoid disputes with regulators and clients by increasing the service quality with coherent suitability information.
Replace error-prone manual processes, which can bear significant financial and reputational risks, with digitalization.
Free-up time of investment specialists, client advisors, fund selectors and compliance departments through automation. Investment Navigator reduces analysis of regulatory provisions from hours to seconds.
Leverage Investment Navigator as the one-stop-shop for fund information, including suitability, on ISIN level.
Open platform structure allows for integrating data and rule sets from different sources, increasing flexibility for the user.