Hyper-Personalized Wealth Planning.
Founded in 2015, 3rd-eyes Analytics empowers financial institutions to deliver goal-based investing with realistic and scenario-based asset liability management methods. The solution captures downside scenarios and market distortions realistically and integrates sustainable investing in all steps of the advisory process. 3rd-eyes Analytics supports the transformation of the wealth management and insurance industry with its modern, interactive and omnichannel advisory solutions, available as Software-as-a-Service or as REST APIs.
IRIS: Instant. Realistic. Individual. Sustainable.
IRIS is an analytical software solution that empowers financial institutions to provide forward-looking wealth & life planning advice, to enable Sustainable Investing beyond regulatory standards and to understand and maximize their customers' lifetime value.
Integrate pension planning capabilities seamlessly into any online environment, as an e-banking add-on or a embedded in other services and products.
The advisory suite empowers financial advisors to deliver goal-based, individual, realistic and sustainable investment and insurance advice to their private and institutional clients. By taking important life events into account, the solution is not only suitable for banks, wealth managers and family offices, but also for insurance companies.
Gives the ability to provide a straightforward, digital advisory solution to end-clients in an easy-to use way, leading them through any advisory process with or without the help of an advisor and tailoring the client journey to their needs.
Allow end-clients to access simplified financial planning functionality from any mobile device, e.g. calculation of the pension gap. Customize the use cases and the client journey to their needs.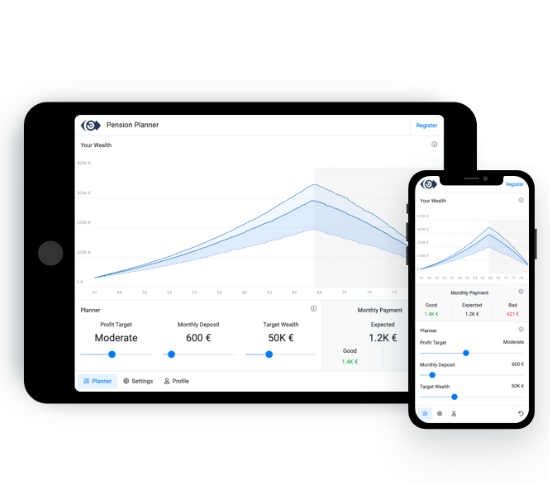 Clarify the sustainability preferences of your clients and calculate the sustainability status of the portfolio and show the ESG risks and supplement the sustainability status with detailed information on securities level.
Frictionless portfolio construction capabilities, available based on client's preferences, including the selection of the correct instruments to complement the top-down approach accordingly, at ESG level or with focus on the SDGs.
Realistic wealth and goal achievement simulations considering all factors influencing clients' wealth and goals in thousands of market scenarios, including all climate risks.
Various capabilities to optimize the client situation (multi-goal ALM optimization, Sharpe Ratio, etc.), including the impact of climate risks (e.g. expected returns).