Generative Artificial Intelligence (AI) may be a break-through for financial service user experience and personalisation yet concerns around misuse and risk are widespread and rightly so, but help is at hand! Christine Schmid, Head of Strategy at additiv explains.
Until recently, the concept of artificial intelligence (AI) was the stuff of science fiction…  However, today we are gradually building our world with AI; from recommended content on social media feeds to rare disease diagnosis or access to education, it's making our lives easier but maintaining social control over the technology is imperative. In particular, AI compliance is a growing focus for financial services, why?
Industry expert concerns and policy makers
The concerns raised across industries aren't concerns for the future, they are concerns for the now, with governments increasing focus in recent years.
According to the AI Index at Stanford, the annual number of AI-related laws passed in the 127 survey countries jumped from 1 passed in 2016 to 37 passed in 2022 alone.
For example, on 14 June 2023, MEPs 'adopted Parliaments negotiating position on the AI Act'.  This aims to 'promote the uptake of human-centric and trustworthy AI and protect the health, safety, fundamental rights and democracy from its harmful effects.' The talks will now begin with EU countries in the Council on the final form of the law, with an aim to reach an agreement by the end of this year. This is all well and good, but this is fast changing technology which demands fast changing regulation to keep abreast.  And adhering to this fast-changing regulation is a different matter.
Generative AI compliance requirements
As a result of the concerns, artificial intelligence (AI) is rapidly changing risk management and compliance. Integrated audit software solutions are needed to manage existing and potential risks, particularly when it comes to Generative AI.
When OpenAI launched ChatGPT back in November 2022, it took the world by storm, reaching 1 million users in only four days and 100 million users in two months.  It was a milestone achieved 75% faster than any other tech giant. ChatGPT has continued to evolve; it now includes features such as analysing data and interpreting images.  Yet, generative AI poses a new challenge.
ChatGPT presents no clear problems to address, user pain points to alleviate, or KPIs to achieve. In fact, ChatGPT can seemingly solve problems in almost any industry, domain, or context. Using it, therefore, requires a different skill: emergent thinking, which involves generating ideas for innovation without fully understanding the problem that needs to be solved. So, what's needed to address this and get the most from this new technology?
Controlled Data Sources: Data and content available for the AI models need to be fully under a firms' control. This includes initial input data (internal data, documents, restricted internet addresses, external data providers) as well as ongoing information feeds. Additionally, to ensure full control, models should be trained and use only with defined information/content ensuring e.g., the use of the bank's directives of regulations.
Fully Private: All data and applications, including the applied models, need to be operated and stored within a protected private cloud – encrypted and protected. No data or application should be outside of the private cloud to ensure no data leakage. Fully Auditable : Managed[CS7]  access controls and private cloud infrastructure are required to allow auditability and traceability.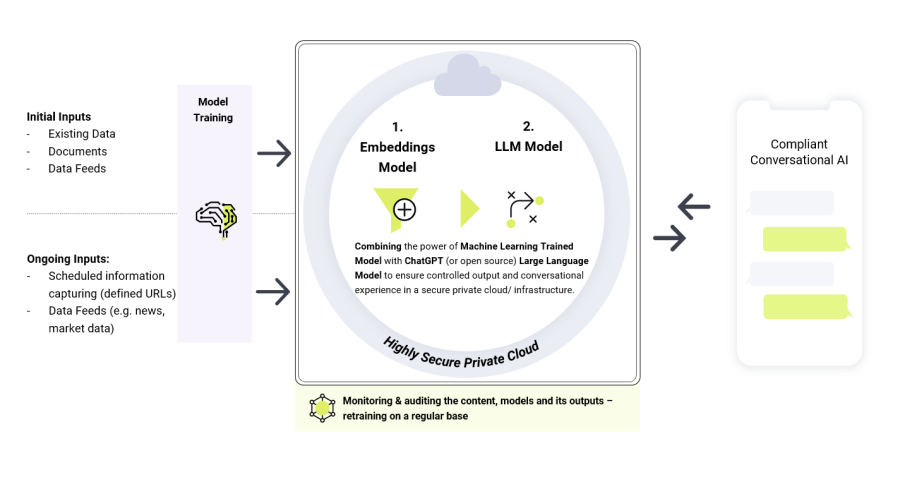 Meeting Generative AI compliance needs
It's a lot to consider for financial institutions trying to grapple with AI alone. With three easy steps, the new Advisor Copilot, enables financial institutions to host their own private and compliant GPT solution in just six months.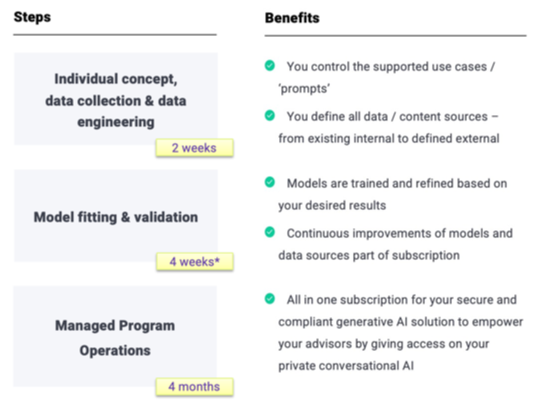 Advisor Copilot gives advisors a powerful conversational tool  to boost know how and client service by reducing time spent for admin tasks.
From a client advice perspective, additiv's Advisor Copilot allows advisors to prepare faster for any client interaction and improve client service. It also allows them to understand which interactions are compliant in a specific case and which legal documents are needed.
Advisor Copilot can also provide the latest views regarding themes and portfolio stocks in a portfolio and identifies which stocks in a bank's investment universe fit best to an actual news.
Ultimately, Advisor Copilot allows financial institutions to reap the benefits of Generative AI tools like ChatGPT.  It's a chance to not only jump on but steer the AI 'runaway train'.