We started additiv to pursue a simple yet profound idea, the concept of Everything-as-a-Service.
Everything-as-a-Service has been decades in the making. Packaged software came about because companies were prepared to pool the economies of scale of using standardized computer solutions. But why stop there? It doesn't make sense for companies to replicate any hardware or software that doesn't directly give them a competitive advantage. And so, in the same way as virtualization gave way to cloud, packaged software gave way to Software-as-a-Service (SaaS). And now SaaS is becoming – or at least losing market share to – Banking-as-a-Service (BaaS).
The big difference between BaaS and SaaS is distribution. A company looking to produce a service needs Software-as-a-Service. But a company can distribute a service without producing it itself, leading to Service-as-Service or, probably better put, Everything-as-a-Service, which in wealth management alone we estimate to be a $100bn global , over the coming decade ($32bn in Asia) when enabled by embedded finance.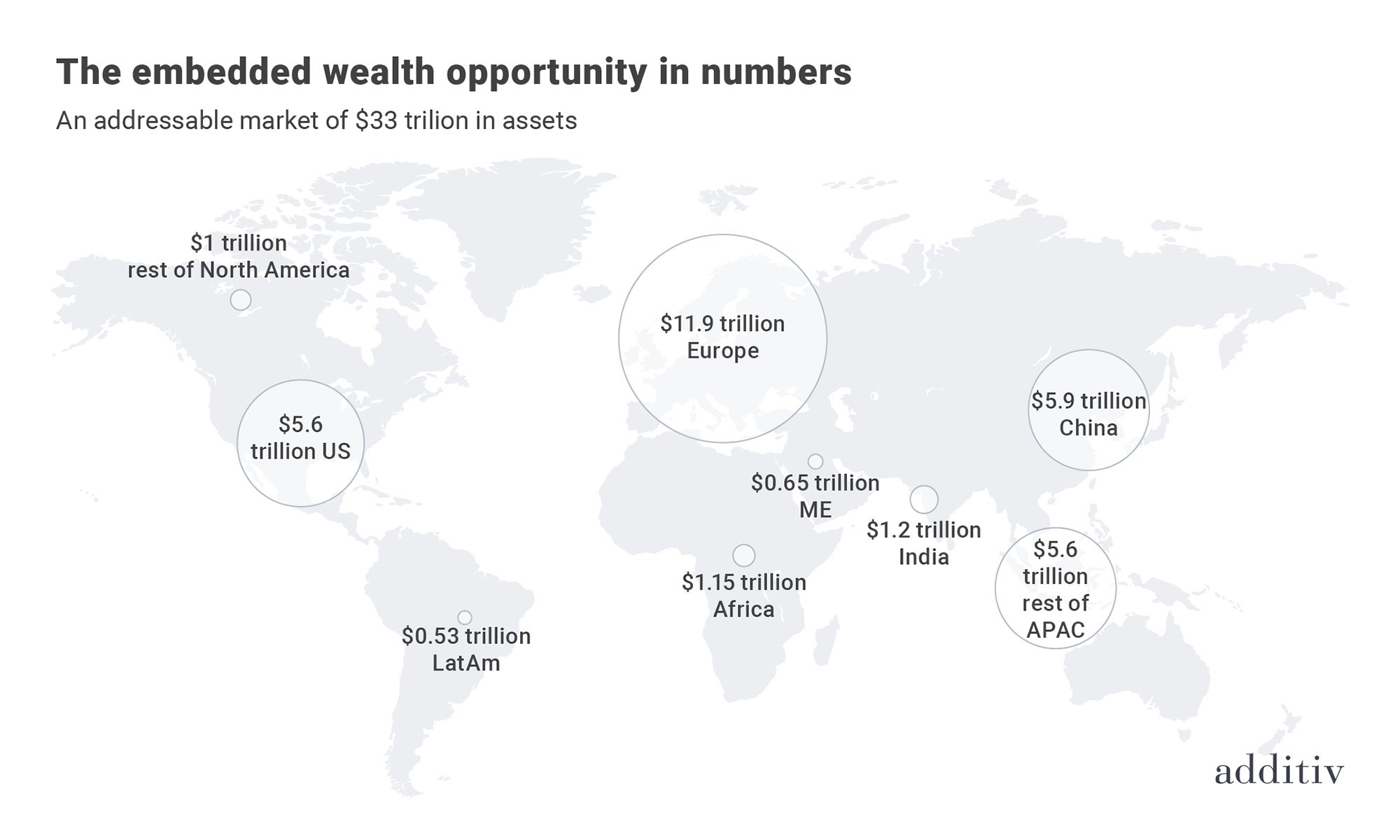 Source: additiv report Embedded wealth management: a $100 billion market opportunity hiding in plain sight
More companies are waking up to the potential of embedded finance. We're having conversations with firms across a range of industries from e-commerce platforms through to employee wellness providers and insurers who see the opportunity to open up a much bigger addressable market by offering wealth management services natively within their existing customer journeys. Existing financial services providers also see the opportunity to do the same as various of our partners demonstrate.  The Nordic platform announced last summer, was the first of a stream of embedded wealth deals that we'll be confirming in the new year. For financial service providers, who could develop the service themselves, using a BaaS provider is about specialization and getting to market fast.
Embedded wealth use cases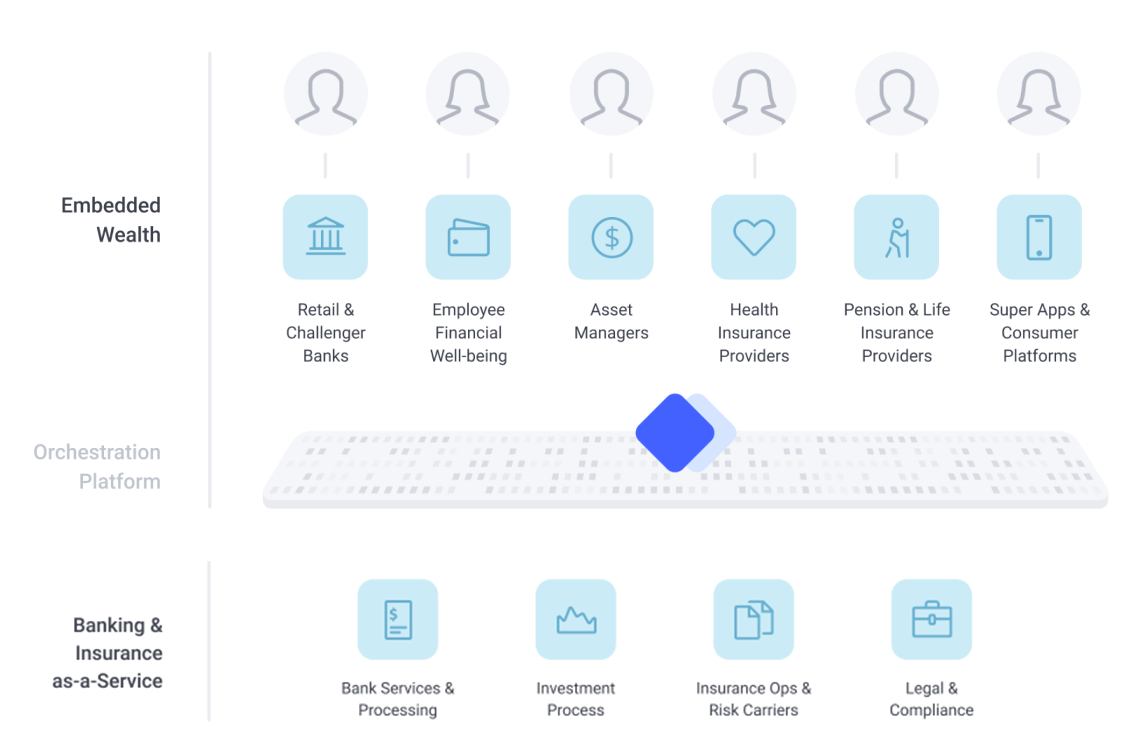 Source: additiv
BaaS is all about ecosystem
To get ready ourselves for the burgeoning opportunity, we have been busy establishing the right partnerships. Everything-as-a-Service is just that – a modular platform and open ecosystem. The embedder brand wants to plug in a ready-to-go service. In an increasingly crowded space, what differentiates the best BaaS providers – as this recent aperture report explains in detail and in which additiv is judged to be a "transformer" – is the extent to which they bring together all of the underlying capabilities, as well as the intelligence and engagement, to deliver truly contextual experiences.
To that end, we announced further partnerships during 2021 – just to name a few with Bricknode, Saxo Bank, Swiss Life, Descartes Finance, Lienhardt & Partner Privatbank, Toni Digital Insurance, Paladino, Adviscent, Kidbrooke, Investment Navigator, Clarity AI and Futurae – all of whom join our vibrant ecosystem.
We've also been busy raising new funding, hiring an ever bigger team, opening up new offices, developing great client experiences  – all of the things that in a normal year would be business-as-usual, but which in the digitally-accelerated post-COVID world felt more like being on a treadmill heading full-speed into the future.
Thank you
Thank you to all of our partners and additiv colleagues who are helping us to co-create wealth management-as-a-service. And, of course, a profound thank you to the fast-expanding community of companies who put their trust in us to create rich, hyper-personalized and seamless experiences for their end clients.
Report: Embedded Banking – The Opportunity and the Providers Best Placed to Help Companies Capitalize on It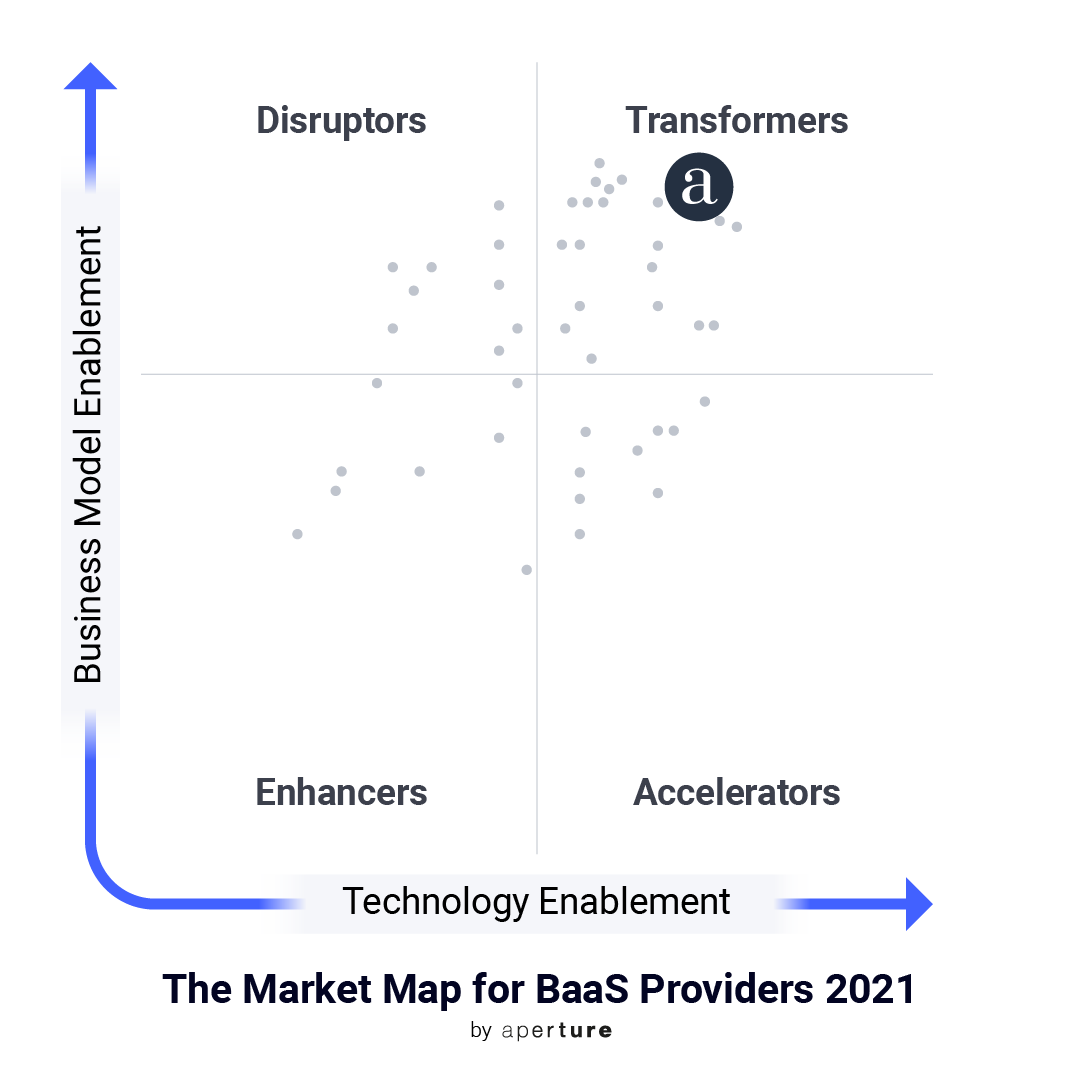 Source: aperture
Thanks also to the organizations that recognized the value we deliver. In 2021, additiv received awards from MEAFinance, Wealthbriefing Europe, WealthTechAsia, WealthTech100, Ecovadis and Aperture.
Wishing everyone a happy holiday and looking forward to collaborating with you in 2022
All the best from the additiv team!