Prospecting, pricing, share of wallet and retention – Address wealth management value drivers with smart content solutions
Being more precise and personal in the outreach communication for prospecting, having the right talking points to prevent churn or to suggest next best actions in order to increase share of wallet is key for a successful interaction and communication with wealth management and private banking clients. The challenge in a digital age is to scale a personalized client advisory experience to deliver the high touch experience private banking clients expect.
Adviscent Interactive Advisor is a savvy content hub for research analysts, investment writers, sales managers and other content owners to create, manage and distribute investment content.
With Interactive Advisor you can leverage and orchestrate content from the investment office, from research and offering departments across the client relationship lifecycle.
Create investment research and offering content based on predefined data structures for equity reports, structured products, asset classes, countries and regions
Base content creation on industry standards like open fund standard
Benefit from built-in market data feeds to automate creation process
Coordinate different functions from the investment office, research and offering department
Manage translations and local versions
Preview content in all form factors: HTML, Web, Mobile and PDF
Use your content in specific business context for prospecting, retention, pricing and share of wallet use cases
Run investment content campaigns for whole client books or single clients
Benefit from our API library to integrate the content on your preferred channel and format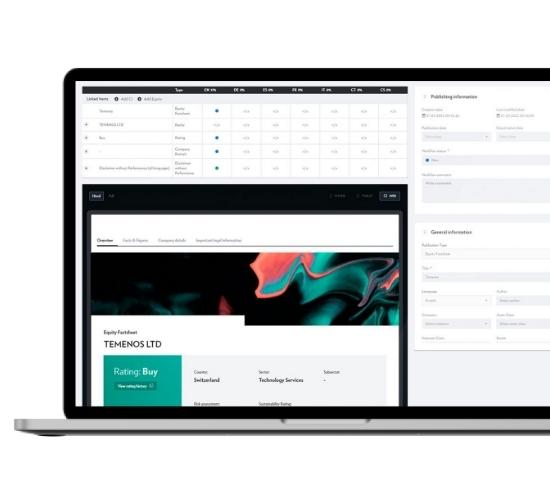 Create high touch advice experiences
Improve the client and advisor experience around your flagship offerings.
Create precise outreach communication
Improve perception of investment capabilities for client acquisitions.
Create investment campaigns
Improve the penetration / success of investment recommendations.
Analyze the impact of your content
Maximize the impact of your investment teams.