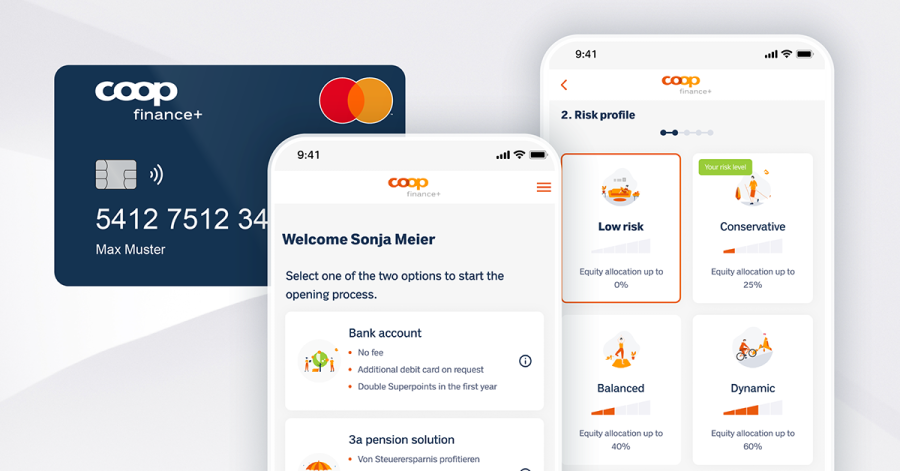 Coop Finance+, a financial services superapp, meets the diverse needs of Coop's customers by offering easily accessible and tailored solutions.
As part of the collaboration, additiv provides Coop with its cloud platform, one of the most robust embedded finance solutions in the world today in the areas of banking, wealth management, credit, and insurance.
Coop Finance+ initially launches banking services, payment transactions and pension solutions, for which it cooperates with Hypothekarbank Lenzburg,Vanguard, OLZ, Liberty, and Glarner Kantonalbank as service providers orchestrated on additiv's platform.
Zürich, 24th October 2023, additiv, a global leader in embedded finance, today announced that it is supporting Coop to launch Coop Finance+, a comprehensive new app for integrated financial services.
At launch, Coop Finance+ offers banking products and individual pension solutions, with plans for further expansion in the coming months. Services are powered by Hypothekarbank Lenzburg for banking and Vanguard, OLZ, Liberty Vorsorge and Glarner Kantonalbank for pensions. Clients can easily open savings accounts with debit cards, make online payments, and invest in pillar 3a retirement plans. The app boasts competitive terms, above-average retirement account interest rates, exclusive loyalty benefits and free cash withdrawals at all 1,000 Coop supermarkets and Coop City warehouses, positioning the retailer as Switzerland's largest provider of free cash withdrawals.
Coop Finance+ significantly enhances the ease and reach of financial services. By consolidating high-quality banking and retirement options into a single app, it simplifies what is often a complex landscape, making these services more accessible and affordable for a broad audience.
additiv has supported Coop with its embedded finance platform in the design and development of the superapp, which is fully integrated with the Coop brand and other digital channels. The API-first cloud platform integrates and orchestrates Coop's various financial services partners into a seamless end-to-end customer experience.
Michael Stemmle, founder of additiv, comments,
It has been a great pleasure to work with Coop on the launch of such a groundbreaking new service. At additiv, we believe that embedding financial products into everyday consumer channels will help improve convenience and financial inclusion.
Nils Frowein, CEO of additiv, stated:
Coop Finance + is a transformative project and will have a profound impact on the user experience of Coop customers.
Thomas Schwetje, Head of Digital / Customer at Coop, adds:
We are delighted to be working with additiv and other well-known and trusted partners in the financial industry on the launch of Coop Finance+. At Coop, we are committed to providing our customers with digital services that are tailored to their needs. With Coop Finance+, we are expanding this strategy to offer straightforward and easily accessible account and payment solutions, household budget management and pension solutions.
about additiv
additiv enables leading financial institutions and brands globally to develop new and transform existing business models, capitalizing on digital innovation and Finance-as-a-Service capabilities.
additiv's API-first cloud platform is one of the world's most powerful solutions in wealth management, lending and insurance. The technology, together with the global ecosystem of regulated financial service providers, opens new opportunities for banks, insurance companies, asset managers, IFAs but also 'consumer brands' to offer their own and third-party financial solutions quickly and flexibly via existing or new customer channels.
Headquartered in Switzerland, with regional offices in Singapore, UAE, and Germany and 300 employees, additiv serves around 400 financial companies (banks, insurers, asset managers, pension providers, IFAs) and brands globally.
For more information, please visit www.additiv.com
For press enquiries, please contact:
media@additiv.com +41 79 926 2705