additiv, a leading SaaS and embedded finance provider to the wealth management industry, today confirmed their position as a 'Transformer' amongst other Banking-as-a-Service (BaaS) providers in the financial services industry. additiv is one of only three BaaS providers focused on the wealth management industry, and the only 'Transformer'.
The evaluation (Market Map – BaaS Providers 2021) positions additiv as leading in this area as part of a wider report from Swiss strategy consultancy aperture entitled: 'Embedded Banking – The market opportunity and the BaaS providers best placed to help companies and brands capitalize on it'. The report includes extensive information on 45 providers about the BaaS service they offer and geographies they cover. The evaluation positions additiv in the top quadrant of The Market Map in the 'Transformer' category.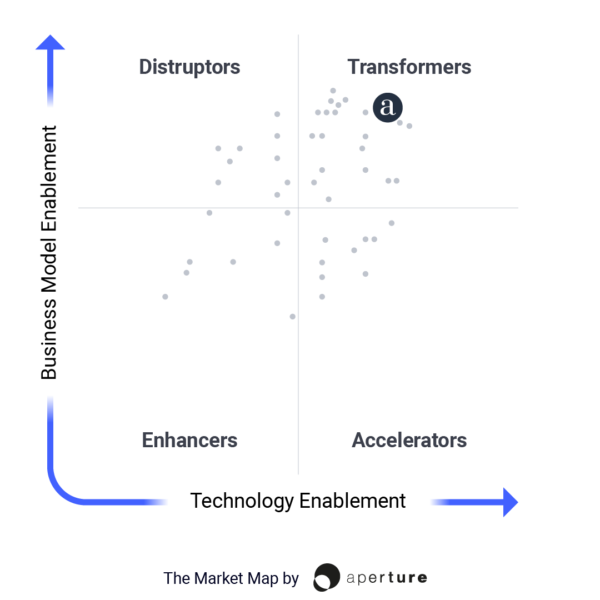 The report states that:
"Transformers are platforms that allow the introduction of new technology and business models. These solutions tend to be embedded, plug and play, and contextually relevant. BaaS platforms in this quadrant are valuable for firms looking to both extend core offerings as well as launch new offerings. Through our analysis, we have found that these players tend to be enabling not just fintechs or other financials but a wide spectrum of non-financial demand side brands."
In addition, aperture's report highlights that:
"Operating across Europe, the Middle East and Asia, additiv offers a modular platform for wealth management in partnership with a broad range of underlying regulated banks and wealth managers."
Michael Stemmle, Founder and CEO of additiv, said:
"Consumers wish to access the wealth management services they want through the distribution channel that makes most sense; typically, the channel that is most convenient or has the highest level of engagement. We are delighted that additiv has been recognized within aperture's report and evaluation criteria which is the first of its kind to review BaaS providers."
Michael adds:
"As well as securing one of the top spots in the 'Transformer' category, we are one of only three BaaS providers supporting wealth management services to be featured, demonstrating how nascent the wealth management-as-a-service market is. Our strong position within the report can be attributed to our strong ecosystem of financial service providers and embedded banking partners. These all utilize our Digital Finance Suite (DFS®) platform to orchestrate interactions between client channels, systems of record, banking services and other important ecosystem actors."
Within aperture's The Market Map, additiv was situated in the 'Transformer' quadrant alongside BaaS providers such as Stripe Treasury, Unit, Bond and Vodeno.
END
About aperture
At aperture, we grow digital-age businesses. We do this on behalf of incumbents launching new business units, universities spinning out commercial projects, and start-ups.
We provide strategy consulting, marketing services, product and project management, and investment – individually or as a bundle, as needed.
Our roots are in the B2B fintech space (enterprise banking tech platforms), but we also work with B2C companies (challenger banks, marketplaces, embedded banking).
For more information, visit www.aperture.co
About additiv
Established in 1998, additiv partners with leading companies across the world to help them capitalize on the possibilities of digital wealth and investment management.
additiv's DFS® omnichannel orchestration platform is a system of intelligence for wealth management. It supports wealth managers looking for best-in-class Software-as-a-Service (SaaS) to deliver better engagement at greater scale. It enables financial institutions to access new distribution channels through a Banking-as-a-Service (BaaS) model. And it allows banking and non-banking providers to embed wealth services into their proposition.
Headquartered in Switzerland, with regional offices in Singapore, UAE, Germany and Kenya, additiv is supported by a global ecosystem of partners.
For more information on the companies, visit additiv.com.