additiv is proud to announce that we have been awarded a silver status by the internationally recognized sustainability ratings provider, EcoVadis.
Following an evaluation of over 85,000 organizations worldwide, across a range of different industries, additiv has obtained a score higher than 56/100. This places us in the 70th percentile and amongst the top 25% of companies assessed by EcoVadis in 2022.
Welcoming the silver rating, Michael Stemmle, Founder and CEO at additiv said
"The future of the planet hinges on the success of global sustainability and it's our responsibility as a corporate to do everything we can to support this, and all UN Sustainable Development Goals (SDG). additiv's assessment by EcoVadis focused on our policies, actions and outcomes that demonstrate our commitment and progress in protecting people and the planet. We are delighted that these have been recognized."
Michael continues
"The award is just one example of additiv's focus on sustainability as we move towards growing our range of savings and wealth management ESG rated embedded finance and wealthtech solutions, which focus on the impact of investment and beyond".
The EcoVadis assessment is well recognized in the finance industry, and required by some leading financial institutions, including additiv clients, to help their supply partners to measure and improve sustainability performance.
It assesses organizations based on 4 different sustainability pillars – Environment, Labour & Human Rights, Ethics, and Procurement (EcoVadis, n.d.). EcoVadis provides a comprehensive insight into these sustainability themes from a business perspective and alongside the environmental pillar of sustainability.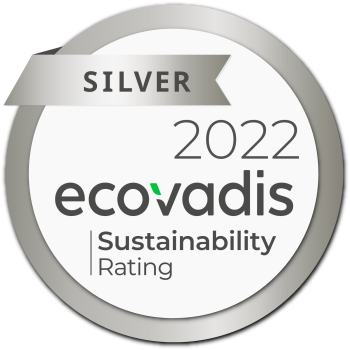 END
About EcoVadis
EcoVadis is the world's most trusted provider of business sustainability ratings, intelligence and collaborative performance improvement tools for global supply chains. Backed by a powerful technology platform and a global team of domain experts, EcoVadis' easy-to-use and actionable sustainability scorecards provide detailed insight into environmental, social and ethical risks across 200+ purchasing categories and 160+ countries.
About additiv
Established in 1998, additiv partners with leading companies across the world to help them capitalize on the possibilities of digital wealth and investment management.
additiv's embedded finance operating system, DFS®, is an orchestration layer enabling financial institutions to access new distribution channels through a Banking-as-a-Service (BaaS) model.  It also allows banking and non-banking providers to embed wealth services into their client proposition. While it supports wealth managers looking for best-in-class Software-as-a-Service (SaaS) to deliver better engagement at greater scale.
Headquartered in Switzerland, with regional offices in Singapore, UAE, and Germany, additiv is supported by a global ecosystem of partners.