Actionable insights, scores and predictive signals based on cutting edge real-time news analytics
Turn unstructured news data into easy to understand and actionable insights. If data is the new oil, learn how to extract, condense and distill it into something valuable.
Operating at the forefront of AI technology, YUKKA Lab analyses +500k news articles from +150k licensed and public news sources per day and translates them into Scores and Signals for next-level Risk, ESG, Sales & Investment Management. Its proprietary scoring engine replicates how you read and asses the news.
Efficiently screen the entire news landscape for relevant news and events. Easily detect outliers and anomalies based on our analytics and scores. Make better decisions supported through our insights and signals.
Measures the media presence of every company, industry and country in real-time, surfacing trends, unveiling the events that drive them as well as giving you access to the underlying online and licensed full text articles.
The pandemic has shown that the world spins faster than structured data can reflect it, making them a picture of the past. With YUKKA Lab`s real-time risk scores based on unstructured news data, we are about to change that and propel your risk management to the next level.
Track and monitor the impact of your investments, supply chain and business partnerships in real-time with our news based ESG scores and the underlying impact news. With over 100 relevant ESG events, YUKKA Lab screens the global news in real-time to provide an outside-in perspective on companies' sustainability impact.
Get a more complete picture of the market and add real-time news sentiment analytics as an additional pillar to your investment approach thereby enhancing returns and improving risk characteristics. Understand the events that drive media coverage and performance of your investments and get an edge on the market by using YUKKA Lab`s unique real-time sentiment analytics to differentiate your investment approach. Our algorithms use cutting edge NLP and Deep Learning techniques to extract sentiment scores and events for each asset.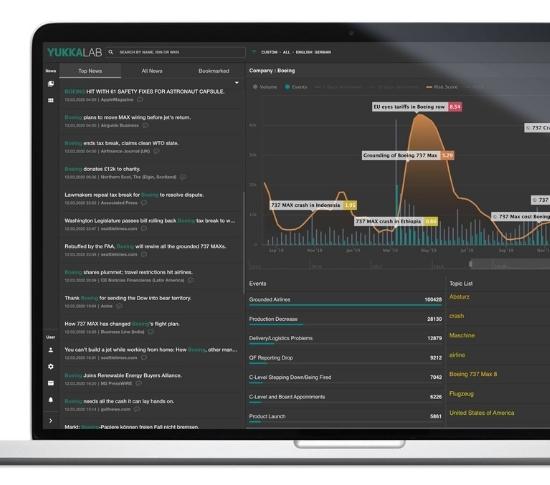 Interprets the increasing flood of financial news – finding the most important information and providing neutral trend analyses fully automated and in real-time.
Saves time and provides efficient overviews. Be the first to know the relevant sentiments. Visualized in an intuitive cockpit-style interface and right at your fingertips.
Smart, fast and self-learning: State-of-the-art NLP, machine & deep learning combined with data mining. Augmented Language Intelligence at its best.
Increase your performance with our solution that offers the most comprehensive and reliable indicators of market sentiment and trend shifts.