Complete .NET Embedded Reporting Tool for Web and Desktop Applications.
Effortless report design for developers and business users.
Telerik Reporting is a complete, lightweight, and powerful .NET embedded reporting tool for web and desktop applications. The Reporting tool empowers every developer or business user to easily design, view, and export rich, interactive and reusable reports to present business data. The reports can be added to any web and desktop business application through report designer and viewer controls. The ready reports can be exported in multiple formats or printed straight away.
Telerik Reporting enables you to create, style, view and easily export .NET reports with the most complete, powerful, and lightweight .NET embedded reporting tool for web and desktop applications.
Drag-drop experience to layout the report in a visual manner
Embedded web report designer targets business users' need for effortless report authoring
All three report designer tools can manipulate the extensive report model
Bind to any data source
Intuitive styling, conditional formatting, interactivity
Ensure scalability, security, accessibility, and performance
Contains report viewer controls for any web and desktop technology
All report viewers display the report content consistently
Multiple export choices preserve the report content considering the chosen format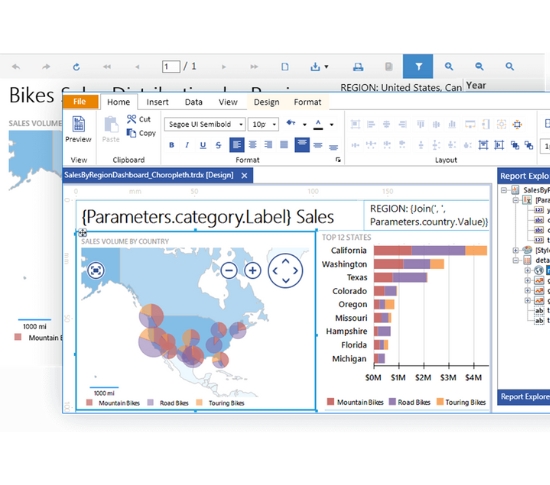 Create impeccable user experiences with a lightweight and easy-to-use reporting tool.
Integrate reporting seamlessly with any business application: Blazor, ASP.NET Core, Angular, React, .NET MAUI, and more.
Fast Start & Handy Resources
Get step-by-step tutorials, demos, and training on demand to go through a completely painless Getting started experience.
We've got you covered with industry-leading support even during your trial period.
Telerik Reporting is available for purchase with flexible pricing options based on support needs.
Add Line-of-Business Functionalities
Line-of-Business functionalities can be added to reporting with end-to-end report management solution Telerik Report Server.