Signicat is a pan-European digital identity and digital signature company
Signicat is a pioneering, pan-European digital identity company with an unrivalled track record in the world's most advanced digital identity markets. Its digital identity platform incorporates the most extensive suite of identity verification and authentication systems in the world, all accessible through a single integration point.
The platform supports the full identity journey, from recognition and on-boarding, through login and consent, to making business agreements which stand the test of time. Signicat was founded in 2007 and is headquartered in Trondheim, Norway.
Digital identity solutions for the full customer journey
From compliant onboarding to secure login and electronic signing:
Sign up new customers with automated identity check.
Frictionless multi-factor login with eIDs, One-Time-Passwords (OTPs) and more.
Sign legally binding signatures with electronic verification.
Secure, compliant, cross-border authentication across all channels.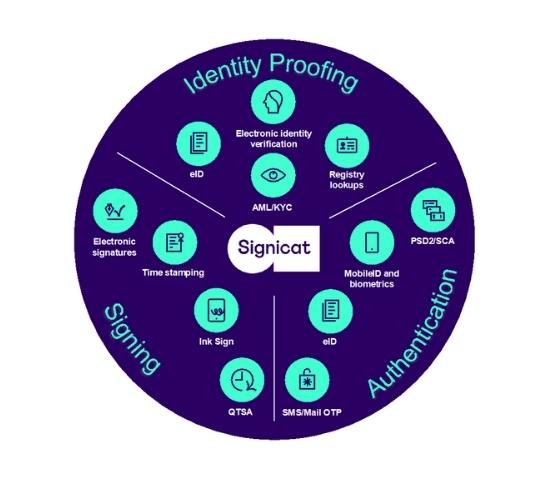 A complete solution for digital identity covering the entire customer lifecycle.
Futureproof growth with 30+ identity methods and more than 300 digital identity experts.
Built-in support for Know Your Customer, Anti-Money Laundering, PSD2 SCA and more.
From the simplest to the strictest identity assurance needs – we've got you covered.
Unified APIs, growing developer resources, and experienced customer service teams.
Qualified Trust Service Provider
We exceed the strictest requirements for security and safety – you can rely on us.