AI-driven Real Estate insights supercharging banks and wealth manager's customer experience and mortgage credit risk process.
AI-driven Real Estate insights and valuations
PriceHubble is a leading European provider of property valuations and market insights digital solutions for finance and real estate players. Its APIs and Platforms enable banks and financial institutions to build innovative digital experiences around the property their customers own, buy or sell, and to strengthen their mortgage credit risk process.
PriceHubble for banks and wealth managers
Empower your clients, your advisors and your risk department with the most accurate property insights and unique customizable embedded Real Estate customer journeys.
Enable your clients to track the evolution of their home value within the online banking environment along with other asset classes.
Leverage the depth and breadth of insights our APIs provide to build relevant interactions for your customers' property selling, financing, buying or renting plans.
ESG is increasingly relevant for your clients – PriceHubble can support them on the Real estate part of the portfolio with e.g. energy label data or potential renovation impact on value.
Evaluate, instantly and in detail, the collateral quality of your mortgage loans at origination and during their lifecycle using our industry leading data and dashboard.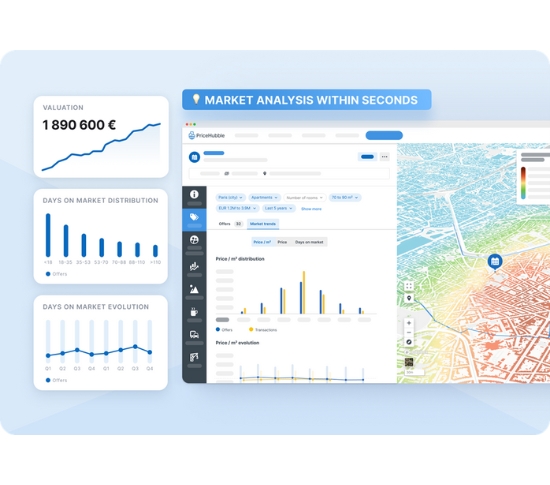 Enhance experience & retention
Leverage the unique emotional and financial value of Real Estate to boost the frequency & depth of your customer interaction and enhance customer satisfaction.
Upgrade internal expertise and relevance
Become the trusted partner in offering a new level of transparency on property. Detect early intentions, provide better recommendations, stay relevant all along the real estate life cycle.
Generate new revenue streams
Utilize the newly created transparency on the Real Estate Asset class to create new advisory opportunities , making educated portfolio decisions, refinancing, rebalancing, improvement loans.
Accelerate property risk analysis
Identify possible issues early on by monitoring, constantly and consistently across geographies, the evolution of the collateral value in your mortgage loan portfolio.