Big Data Approach to ESG Metrics & Sustainable Investing
OWL's mission is to provide data, indexes, evaluation metrics and other tools that allow investors to make informed choices while helping the planet. The individuals on OWL's team come from diverse backgrounds with a heavy emphasis on investment management, quantitative investing, the sciences, and mathematics. OWL shares a passion for discovering powerful alternative approaches to synthesizing data, improving its usability and applying insights from the data to improve investment performance while making the world a better place. OWL clients currently manage or advise over $2 trillion of invested capital.
Reduce Subjectivity & Increase Actionability utilizing the Wisdom of the Crowd
The world of ESG data can be described as subjective, non-standard, self-reported, and unregulated. Attempts to standardize and mandate reporting over time, and to define materiality with respect to sustainability practices have met with little success. Thus, extreme inconsistency is the norm. Instead of offering ratings that represent the same singular sourcing that result in subjective ESG ratings offered by the ESG industry OWL offers a solution by utilizing a multi-source methodology aggregating over 500+ ESG expert sources (which includes over 15+ well-known ESG research firms) and over 100 million ESG data elements to create the largest foundation of ESG data in the industry.
OWL Analytics takes an unique approach to address the inconsistencies and contradictions in the scores as well as rankings supplied by various ESG data vendors. These vendors' ratings/rankings are not "wrong" – each one makes a sincere effort to analyze ESG issues – but they are subjective. They emphasize different things based on the metrics and weightings they use, so by choosing one vendor's ratings, you choose their priorities and metrics over all others. OWL creates Consensus Scores that combine hundreds of ESG data inputs across a large number of sources that represent a wide range of perspectives.
These Consensus Scores use a "wisdom of the crowd" approach, leveraging the world's leading ESG data and research firms' insights. Behind the scenes, OWL uses hundreds of metrics to capture the way the range of ESG data vendors create their ratings. From this, we construct a broad-based, unbiased, consensus view of the relevance of various E, S, and G metrics for each industry.
OWL – One Stop ESG Data Solution
OWL offers a diversified suite of ESG data and analytics solutions delivered to some of the largest institutional investors, banks, and financial technologies companies across the world. One of the key differentiators that sets OWL apart is our in-depth partnership model combined with our ability to provide customized ESG data solutions and analytics. OWL is consistently chosen by these institutions because we offer:
OWL offers the most objective ratings available through our multi-source methodology. Its focus is on increasing objectivity by scoring companies on the cross-section of what leading ESG data providers and research firms consider material to any given company in any given industry. Statistical optimization reduces bias error and generates a consensus viewpoint for every company covered. The quality of the underlying data does matter: Garbage In, Garbage Out
OWL ESG empowers investors to make decisions based on fresher inputs. OWL ESG scores are updated monthly instead of annually leading to more dynamic metrics appropriate for portfolio management and indexing. Fresher ratings mean more meaningful information. Do you want your investment mandate or portfolio decisions based on stale data from almost a year ago?
OWL ESG rates every company on approximately twice as many industry specific ESG factors than other providers. OWL will provide your firm with the Greatest Coverage in the industry (Over 30k+ companies, 230k+ Bonds and over 135k Funds/ETF's w/ diff. share classes)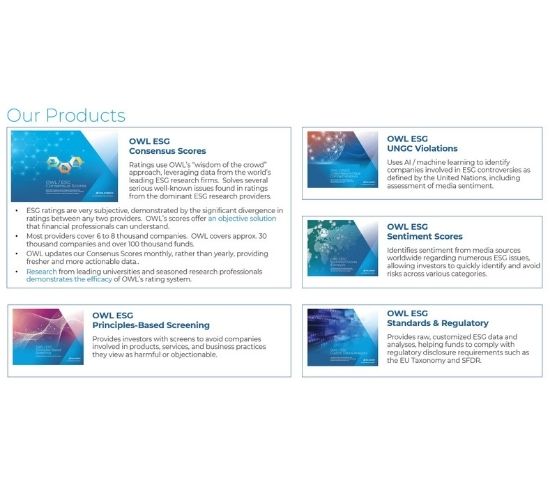 OWL ESG covers over 30,000 public companies across the world, publishing metrics monthly rather than yearly, providing more actionable data that can be integrated into real world portfolios.
OWL ESG scores and ranks companies against their peers across thirty core metrics, including twelve key performance indicators that quantify company behavior important to society.
Objective Ratings Solution
Consensus scores: OWL aggregates hundreds of sources of ESG data, research and ratings scoring companies on what the "wisdom of the crowd" of the world's leading ESG researchers determine are the material ESG issues for each company's industry.
OWL's unique data-driven approach allows investors to confidently integrate ESG data into their investment processes. Our suite of tools, datasets and analyses provide objective insights that can help investors to incorporate ESG-based information and risk assessments in pursuit of enhanced investment results as well as a positive social impact (services include: OWL ESG Consensus Scores, SFDR & EU Taxonomy, UN Compact Violations, Custom/Bespoke ESG Analytics, ESG Sentiment Scores, Principles Based Screening and Portfolio Wisdom aka Portfolio-level ESG Ratings).