API-accessible financial simulation engine for predictive forecasting
Founded in 2011 in London, Kidbrooke offers OutRank, a financial simulation engine. By distilling decades of research in the fields of quantitative analysis, behavioural economics and portfolio management into easily accessible APIs, Kidbrooke enables any financial institution to build next-generation digital wealth experiences.
Current use cases include holistic financial planning, pension planning, mortgage/credit analytics and investment guidance/advice.
Access to Kidbrooke's technology can improve customer engagement, the quality and profitability of the underlying business models, shorten time-to-market and ultimately make a real difference with respect to financial inclusion.
We believe in a world where everyone has access to educated financial decision-making.
Build seamless wealth experiences leveraging predictive forecasting by accessing our financial simulation engine through its versatile APIs.
Economic Scenario Generator driven by a cutting-edge discrete time-series model. This choice helps Kidbrooke achieve more realistic risk modelling capabilities and more flexible choices with respect to granularity.
Leveraging cloud technology helps OutRank to be up to 10x faster than relevant competitive offerings, translating to superior digital user experience of your services.
Due to its modular nature, you can pick and choose the functional units of OutRank that suit the business model of your institution. Moreover, OutRank can be provided as a back-end API to simplify the integration processes as much as possible.
The multi-period, simulation-based nature of OutRank translates into a more realistic and flexible representation of financial products, fees, taxes, and strategies. Due to holistic, balance sheet approach of OutRank, you can model different use cases in the order that fits your strategic roadmap.
OutRank allows the incorporation of your institution's house views in the decision-making mechanisms of your digital journeys and advisor's projections. Besides, it is easy to integrate bespoke risk factors, bespoke risk profiling strategies, and tailor the style of the decision-support to your existing workflows.
OutRank supports a full audit of outputs back to fundamental assumptions and configuration. The service includes monthly maintenance of the calculation engine and its annual validation.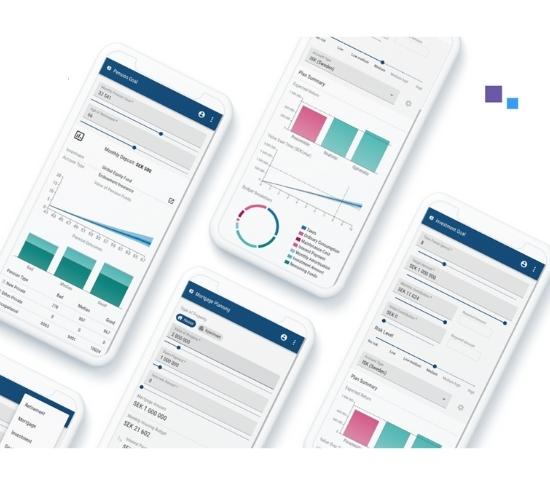 Developing a holistic financial simulation engine from scratch may take years of research, but with OutRank it is yours to use today.
Improves customer engagement
OutRank can generate relevant and proactive nudges informing customers about important events in their financial lives.
OutRank can both power fully digital journeys automating your wealth business and automate the most time-consuming tasks performed by your physical financial advisors.
OutRank can empower you to extend your offering to mass affluent retail customers in a lean and scalable way.
Due to the holistic nature of the offering, you can add more and more digital journeys powered by OutRank as you navigate your strategic roadmap.