Global SMS gateway with first-rate services.
GatewayAPI offers a rock-solid SMS gateway with first-rate messaging services, easy integration, global connectivity and high operational stability. All while still being one of the best priced A2P SMS-suppliers on the market.
Why use SMS communication?
Getting the attention of your audience doesn't have to be complicated. Find out how SMS communication can help you cut through the clutter and reach your audience fast and efficiently.
Boost your business by implementing SMS communication which offers towering opening and interaction rates. The technology offers endless possibilities and can be integrated with your existing products and services in a variety of ways.
You can integrate with our API in your preferred programming language, or you can use Zapier, Flowize or Make to connect with GatewayAPI: Just find the app, service or platform you want to integrate with and get started right away! Whichever method you choose, it's fast and easy to set up.
Our pricing model is simple. By default, you only pay for the SMS traffic you send. We have no hidden fees and by default no subscriptions.
With our Premium Class, you can anonymize data in GatewayAPI, have traffic prioritized and get the lowest price possible from top-end providers. This option is perfect for one-time passwords and sensitive information.
With GatewayAPI, you can rent virtual numbers in 50+ countries. Virtual numbers can be used for two-way messaging, customer satisfaction surveys and to send SMS messages in countries where a virtual number is required.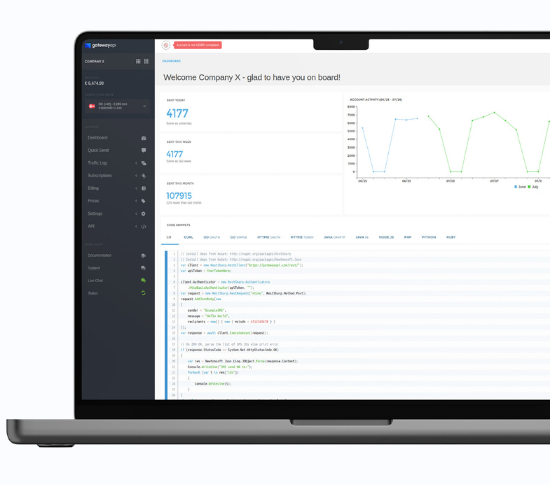 Reach target groups quickly, reliably and effectively
Our SMS gateway can handle huge amounts of pressure and is built to scale automatically. When using GatewayAPI to send SMS messages, you are almost guaranteed that everyone in your target group both receives and sees your message.
Offer customers a safe and easy way to handle OTPs
SMS-based one-time-password (OTP) authentication can provide your customers with an easy way to verify their identity. This is especially helpful for payment gateways, banks, payment systems etc.
GatewayAPI is owned and operated by a Danish company and is stored safely in Tier 4 data centers within Europe. All data is protected by tough SSL and leading security measures. An annual ISAE 3000 GDPR report compiled by a state-certified auditor certifies that GatewayAPI is 100% GDPR-compliant.
Benefit from automated communication
Explore how automated communication can effectively boost your communication with your customers as well as improve customer satisfaction. Use automated SMS communication to send reminders prior to meetings or notifications if something occurs that you want the user to act on ASAP.