A Wealth Management SaaS solution allowing additiv DFS clients to easily connect to any custodian worldwide, while aggregating all of end clients' information in an efficient and scalable way.
Whether you're a Private Bank, Family Office, IFA or a Wealth Management Company, Flanks is the bridge between the additiv DFS platform and any custodian entity globally.
Flanks' advanced aggregation process allows institutions to quickly bring the positions and operations of end-client investors into their current IT ecosystem, with ease.
Flanks for Financial Advisors and Family Offices
Enables automated connectivity to any global custodian entity across the globe with ease. Aggregates all data and enables scaling wealth management operations like never before.
Flanks gives financial advisors a complete 360-degree view of all their clients' operations and daily positions, allowing them to maximize the performance of their services.
Flanks can connect to any custodian entity by leveraging the consent and credentials of end-investors and financial advisors. Flanks covers the two-factor authentication as it follows the security process of each entity. As easy as simply choosing a preferred custodian entity and hitting connect.
Flanks' technology allows financial institutions to connect directly to the private APIs of the core banking system of the custodian entity. Flanks then retrieves all the information that is relevant and required, for any financial product.
Flanks standardizes the information and classifies all assets according to its ops master, delivering clean and accurate data on a daily basis. Flanks' data team and robot-services work on the data reconciliation process, being able to detect and correct any mistakes, easily.
Flanks' plug & play approach enables any financial institution to easily integrate the Flanks platform into its existing additiv DFS instance through APIs or STFP.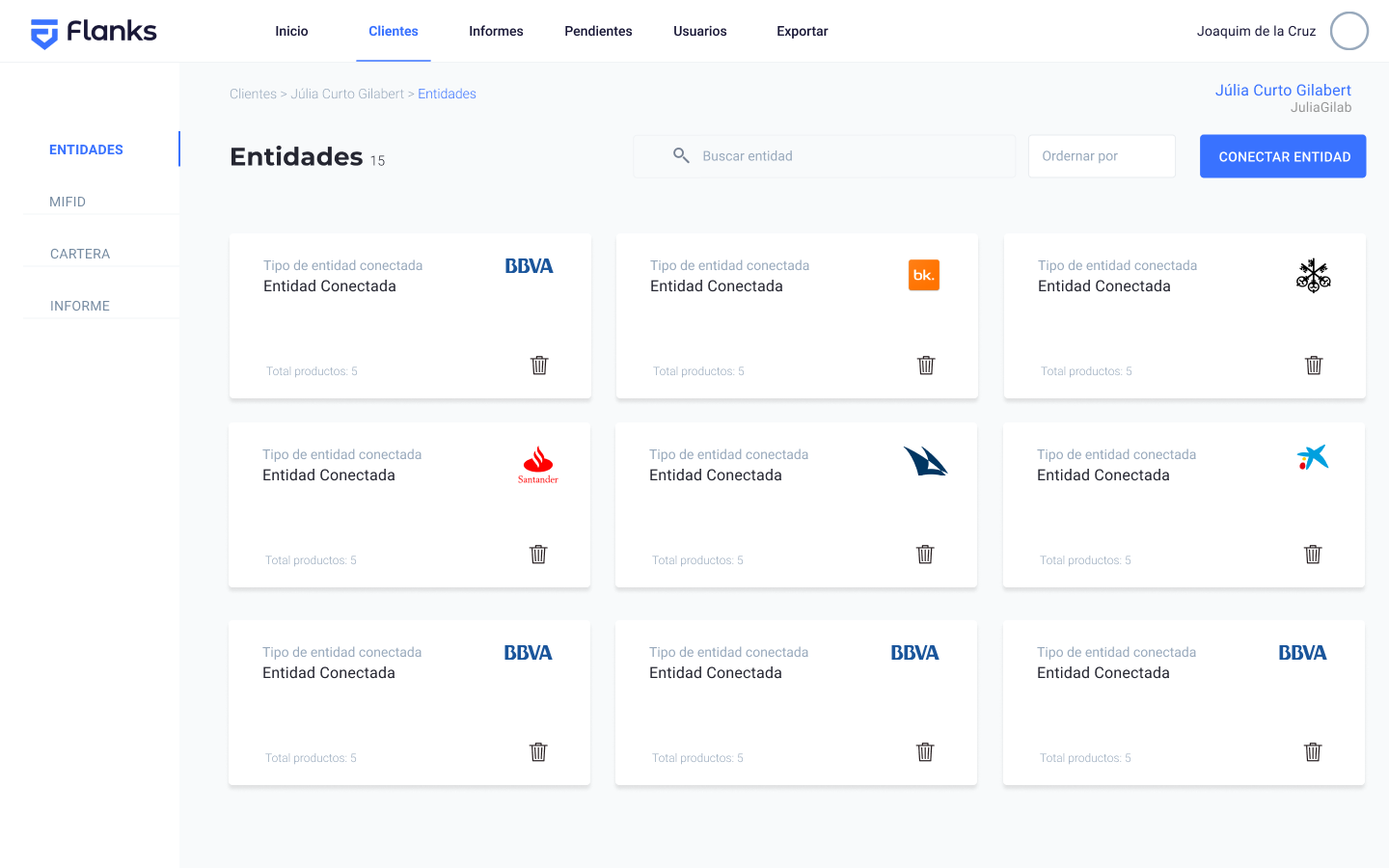 Unified view of end-clients' wealth
Connects to any bank where end-clients hold assets, standardizes and classifies all data into a single-view.
Increased operational efficiency
Bridges multiple back-office, reporting and compliance solutions into a fully automated platform freeing up valuable time.
Higher end-client engagement
Enables end-clients to access their unified financial dashboard, anytime, anwhere, in a fully encrypted way.
Puts the financial advisors' offering at the center of the financial life of end-clients, making it a core proposition.