CryptoIndexSeries provides institutions with institutional-grade and AI-driven crypto data, trading and portfolio analytics tools.
CryptoIndexSeries provides wealth managers, asset managers, family offices and crypto technology providers the necessary tools for data analysis, trading and portfolio analytics to power their in-house solutions for their crypto offering.
The CryptoIndexSeries solutions enable:
– Multi source data collection & normalization,
– Classification of data and quantitative analysis,
– Generation of meaningful, analyzable and comparable findings,
– Creation of Market and Sector Indices,
– Trading and tracking of crypto assets across multiple liquidity venues, and
– Managing of multiple portfolios on multiple venues.
Provides bundled access to Data, Trading and Portfolio APIs for Crypto Markets.
Allows collection of transaction history from multiple venues or from a transaction file, values the consolidated portfolio across fiat & crypto currencies and generates portfolio analytics such as balance history, asset allocation and holdings index over time.
A Web-based Platform built atop the CIS API that enables institutions to effectively monitor crypto markets.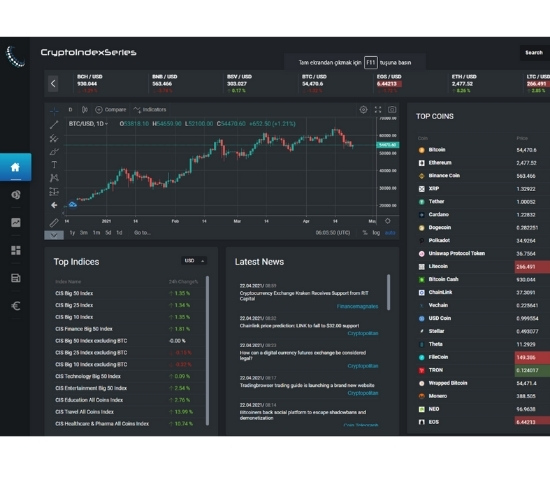 Economize on resources and save time
Institutions can integrate CIS API to their already existing platforms or build their platform on top of the CIS API. This alleviates the need to dedicate substantial time and resources to collect, store and manage BIG crypto data, to build integration end-points to multiple trading venues, and collect transaction to calculate portfolio performances.
With the saved time and resources, institutions can focus on their core business and gain an advantage over their competitors with the use of CIS offerings.
The CIS offerings provide institutions with an already existing powerful API for the digital asset markets, which is customizable according to their needs. These solutions are cost efficient, and are continuously upgraded according to market developments and changes in the needs of clients.
With low latency data, benchmarks such as crypto market indices, a rich crypto news feed with AI-generated sentiment analysis, the CIS API provides searchable and manageable content that is crucial in making the best trading and strategy decisions, and gaining an advantage over competitors.