Intelligence For Asset Managers.
Global Asset Selection, Asset Allocation and Risk Management as a web-based SaaS platform. Seamless workflow and processes for every investment management task.
The CIMalgo solution facilitates the day-to-day life for investment managers, asset gatherers and allocators who want produce personalized solutions for high demanding clients or defined fiduciary policies. With all necessary data and functions integrated, CIMalgo delivers a powerful system with a disruptive price point.
The user can create defined and unique universes of assets together sophisticated and forward-looking optimizers and asset allocation modules. The graphical output allows for easy reporting to clients and stakeholders fulfilling the highest standards of relevant information.
CIMalgo offers technological analytics tools, powered by high-quality data, for all levels of professional investors to make better investment decisions. We believe investors can and should be in complete control of their own investment process, from start to finish.
Avoid unwanted securities and outputs with over 400 filters / security and sophisticated customization modules matching specific investment requirements.
No installation or integration needed gives the enterprise user scale at a low cost with many users.
From top global data providers. Stocks, ETF:s, Funds, Indices, ESG and SFDR data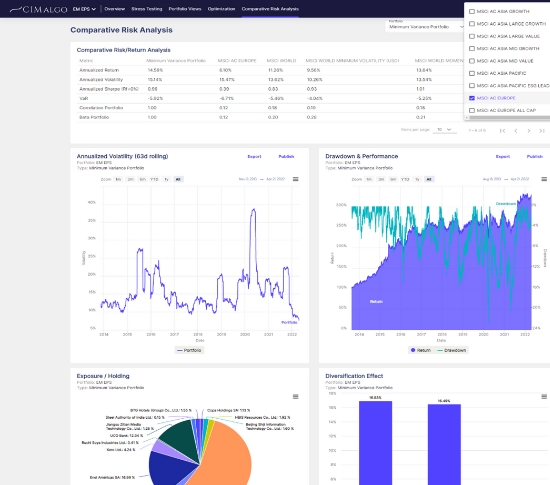 Reduce costs and increase scale
Improve asset selection and portfolio construction