Account aggregation, portfolio analytics, and client reporting solutions to financial institutions, wealth management professionals, and high net-worth individuals.
Financial transaction data is messy. And always distributed across multiple sources. There is no easy way of cleaning, collating and integrating it. It is a major pain point and our customers (private banks, independent wealth managers, family offices, HNWIs) are willing to pay for an easier solution.
Financial services and fintech companies need financial transaction data (Buy / Sell / Asset / Liability / Income / Expense) to run their business. Existing players spend a lot of time and money on getting data right. 86% of Financial Transaction data in Europe/Asia is not available as an API and requires manual input.
A family office and wealth management software trusted by top private banks and advisors. Intuitive, flexible and comprehensive for all types of users.
An intuitive and interactive web application that allows the user to view their consolidated portfolio.
– Secure access via mobile phone or computer
– Customizable asset classifications
– View combination of accounts and securities
The Canopy Analytics module allows for custom analytics and complete access to the enriched data.
– Custom performance and risk analytics
– Cashflows calculations
– Key financial metrics with a single click
The Canopy Reporter allows users to generate consolidated or individual account reports with the click of a button.
– Export in Powerpoint or PDF
– Generate template or custom reports
– High-level summaries or detailed analytics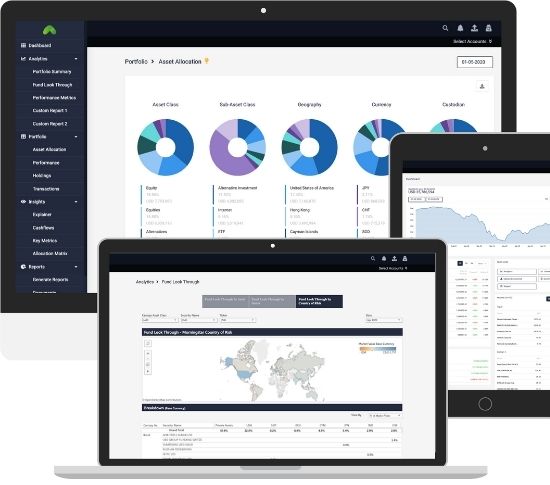 Say goodbye to manual entry. Simply upload your statements to have all your data consolidated.
Enjoy lower operational cost when less resources are required to produce more output.
One size never fits all. We customize professional reports according to your requirements.
Reconciliation is performed using a 'triangulating' methodology to ensure superior accuracy.