Bricknode Lending is a cloud software solution for financial institutions that want to deploy new lending products or digitalize legacy systems. The platform enables institutions to offer personal and business loans with support for traditional and peer-to-peer lending propositions.
Bricknode Lending helps automate the complete loan management process and connects you to pre-built borrower and lender interfaces.
Manage the complete lending life cycle with process and decision automation.
Utilize pre-built borrower and lender interfaces or connect your own via API.
Manage customer communication and support via a built-in CRM system.
Add, remove and integrate functionality with modular infrastructure.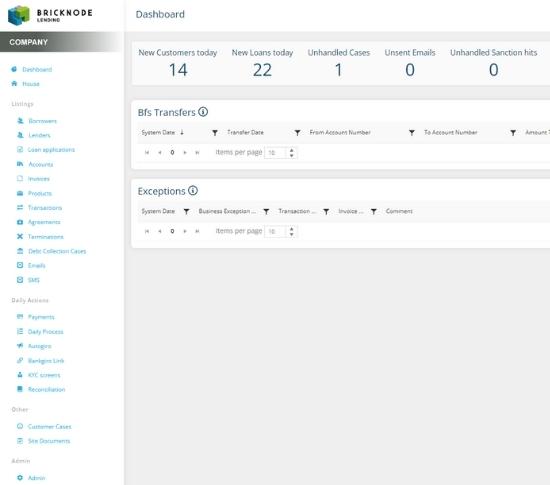 Launch your digital lending proposition in weeks, not years. Bricknode Lending is ready to configure and deploy.
Take advantage of scalable pricing that aligns with your growth. You'll always have access to the latest platform upgrades.
Enable or configure functionality from a marketplace of add-ons quickly and easily. Integrate with credit assessment providers, collection companies and more.
Scale your lending proposition infinitely with flexible cloud infrastructure and intelligent process automation.
Outsource day-to-day lending management and administration of your offering to Bricknode's experienced team.
Seek advice from Bricknode if you are looking to acquire a license and design your new lending product.