Removing regulatory barriers with embedded compliance
Financial institutions around the world use Apiax to embed compliance into their applications and processes. Integrated into the organizational workflow or consumed through user-friendly applications, Apiax provides clarity to complex regulatory requirements – across the entire organization.
Apiax helps financial institutions overcome regulatory challenges, realize business opportunities, and reduce the cost of compliance.
Apiax Embedded Compliance Solution
Apiax' embedded regulatory compliance software provides clear and dependable answers allowing your team to do more activities that are compliant faster.
Apiax provides investment managers with regulatory and tax insights right in the tools they already use, enabling them to respond faster to customer needs and market developments while staying compliant.
Apiax flags regulatory implications for relationship managers right in their CRMs, enabling fast and controlled processes that improve client experience. These actionable answers on the most pressing regulatory issues surrounding client meetings enable relationship managers to realize more client interactions at greater certainty.
Apiax helps accelerate even the most complex client onboarding processes. We provide dynamic inventories of identification and verification requirements to clarify which stakeholder's documentation is needed to complete onboarding activities faster.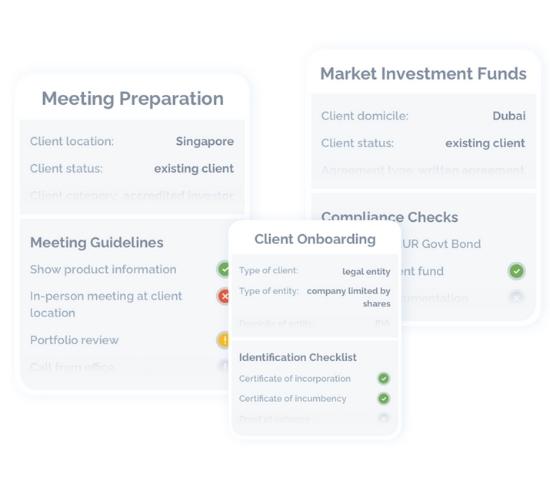 Make your business present in new markets and grow in existing ones by retrieving regulatory requirements across jurisdictions at the click of a button.
Reduce compliance overhead with instantly available, targeted regulatory answers to avoid back-and-forths and increase efficiency to minimize costs.
Avoid regulatory and reputational risks by knowing the compliance dos and don'ts for every country right away. Apiax provides trusted up-to-date content and expertise from the world's foremost regulatory experts, always up-to-date and verified.
Embed actionable compliance knowledge right where you need it – into any team, tool or process. Carry out your activities knowing that, behind the scenes, embedded compliance always has your back.